A3C has always been about providing a opportunties and a valuable experiences for artists. We're excited about #A3C18 and hope you have a good time in Atlanta.
Be sure to tag us and share your experience with #A3C18.
IG: @a3cfestival
Twitter: @A3C
Facebook: A3C Festival
Promo Material: https://www.a3cfestival.com/promo
Share the artist discount code with your friends and family. The artist code A3C18ARTIST20 is good for 20% off 5-Day, Conference or Festival passes, while supplies last.

Use the App to Promote Yourself
Your guide to everything #A3C18 on the A3C App. The A3C App has the up-to-date lineup & schedule and a festival guide with FAQs, interactive map, and shopping/eating suggestions.
Pack the house!
Most people use the A3C app to create their personal schedule.
Once people add your event to their schedule, they can set alarm to get notified so they don't miss the show.
The most added shows will climb the most scheduled list on the popular tab, and people use the popular tab to find new events.
Tell your fans and friends to add your show to their schedule. This is one of the easiest ways to make sure your fans don't miss your show, and new fans find your show.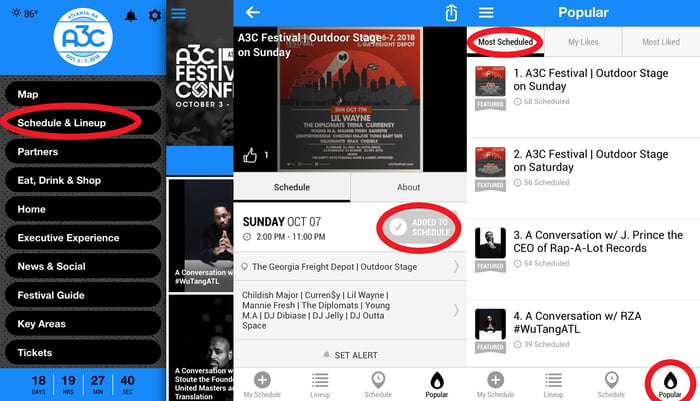 More Likes = More Exposure
The more likes you get, the higher you'll climb on the most liked chart.
People use the popular tab to discover new artists.
This is one of the best ways to promote yourself at A3C, so tell your fans and friends to like your profile.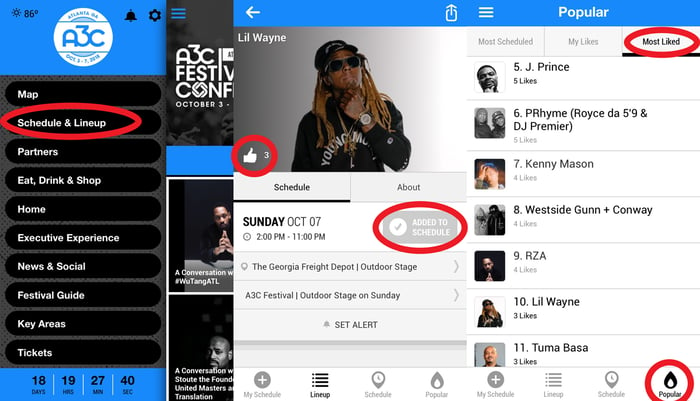 Passes
All performing Artist(s) will receive (1) 5-Day pass and (1) 5-Day for their representative. A3C Festival & Conference passes will enable you access to Festival, Conference Center, Action Summit, Creator Complex as well as Shows and Events for 5-Days.

[Example: If you are an MC with a tour DJ, and a Manager. You will receive (3) A3C Passes. (1) for the MC (1) for the DJ and (1) for the Manager.]

The Artist Representative is the individual who has executed the Artist Profile. If the Artist is the Artist Representative, the Artist will not receive an additional pass.

There is no guest list for A3C or for individual showcases. No exceptions will be made for crew, photographers, background dancers, hype man, guest performers or anyone else.

Do NOT lose your A3C wristband. A3C will not be responsible for lost or stolen wristbands. No replacement wristbands will be provided.

Select A3C venues have backstage and/or greenroom. For access into the backstage and/or greenroom for your show you'll need to check in with your stage manager for any additional credentials needed.

You must register before your performance. Only the Artist or Artist Representative may register.
Registration
Register at The Loudermilk Center
40 Courtland St NE, Atlanta, GA 30303
Registration is open during the following times:
Tuesday, Oct 2nd from 4pm – 8pm

Wednesday, Oct 3rd 9

am - 8pm

Thursday, Oct 4th from

10am - 8pm

Friday, Oct 5th from 10am - 8pm
If you are arriving Saturday, please go to the A3C Festival Box Office located at the Georgia Freight Depot (65 M.L.K. Jr Dr SW, Atlanta, GA 30303) from Noon- 5pm.
You are responsible for your A3C wristband, and A3C will not replace lost or stolen wristbands. A3C wristbands must be worn at all times, and can not be removed. You must tighten your wristband and are not permitted to wear a loose fitting wristband. You must wear a wristband to be permitted into any A3C event.
You are able to pick up your passes anytime registration is open, regardless of your performance date/time. If you cannot make any of these time, please contact your showcase curator, or whomever booked your performance directly. A3C cannot guarantee admission to any events if your credentials are not redeemed.
Creator Complex
A3C's Creator Complex will connect artists and producers with creative professionals and company experts to create valuable digital assets and provide actionable insight.
2018 Partners Include YouTube, Landing Lion, AKAI, Sounds.com, Native Instruments, Motion Family, Gray Matter Collective, Scratch DJ Academy, SocialWerk, Wish Creative Media and LANDR.
GSU's Creative Media Industries Institute
25 Park Pl NE. Atlanta, GA 30303
Friday, October 5th
10am - 10pm [1-day only]
Audiomack
We've partnered with Audiomack to help provide A3C artists with the opportunity to reach more fans across the world. As the premiere streaming service for all emerging artists moving music forward, Audiomack is the perfect place to grow your fanbase.
If you're interested in having your music promoted by Audiomack across socials and on their homepage, make sure you upload your music and email your audiomack link + A3C to trending@audiomack.com

Free Music Reviews
presented by Steereo
Steereo presents an opportunity for artists to have their music reviewed by A&Rs, Record Execs and Industry Veterans at 2018 A3C Conference.
Wed, Oct 3 - Fri, Oct 5
Register at the Corner Office Room in the Loudermilk Center
Mentorship Sessions
There are more than 8 different themed mentorship sessions at A3C Conference. Each session will enable attendees to spend 8 minutes 1-on-1 with an industry professional.
Wed, Oct 3 - Fri, Oct 5
Register at the Corner Office Room in the Loudermilk Center
Publicity
Startup & Entrepreneur
Producer
Women
Managers / A&Rs
Record Label
Lawyer
Promoters / Booking Agents
Production & Backline
Due to the number of artists performing at A3C, therefore there is no formal sound check. Sound engineers and stage managers will work with each artists to make sure the sound levels are correct.


An A3C Stage Manager will be in contact with you prior to your performance date. On the day of your performance, you must check in with your Stage Manager at least (60) minutes prior to your performance time.

The following equipment is what we will have available at each venue/stage:

BACKLINE/TECH INFO:

(1) CDJ
(2) Technics 1200 Turntables
(1) DJ Mixer
(1) Serato Scratch Live Box
(3) Microphones

Please note that A3C will not provide any DJ's for your performance.

Your best point of contact for showcase information is your Showcase Curator.

If you require any additional, or specific, equipment for your showcase, please contact Atlanta Backline Company (atlbackline@gmail.com) with your request for a quote. Atlanta Backline Company is our exclusive backline company for A3C.

If you have problems/questions during your showcase, contact your Stage Manager directly who will be on-site to assist you.
Parking
A3C Festival @ the Georgia Freight Depot
Parking is available at the 90 Central Ave located behind the Ga Freight Depot.
There will be no free parking available.
Conference Center
There is a Parking Deck at the Loudermilk Center. Parking will be validated for all artists and speakers.
40 Courtland St NE, Atlanta, GA 30303
Map

Transportation
We highly recommend using LYFT to get around Atlanta. All of the venues are close, and you won't have to deal with parking.
MARTA is one of the easiest and most affordable forms of travel between many of A3C's central areas: Conference Center, Festival Grounds, and all of the city.
One-Way Fare $2.50
Festival @ GA Freight Depot = Five Points Station

Conference Center =

Five Points Station

Creator Complex

= Five Points Station

Old 4th Ward = King Memorial Station [Blue & Green Line]

East Atlanta Village = Five Points Station [Bus 74 Flat Shoals ave]
Train Frequencies:
Rush Hours (6-9 am and 3-7 pm): 10 minutes all lines
MidDay & Early Evening: 15 minutes all lines
After 8:30 pm Weekdays and on Weekends: 20 minutes all lines
Action Summit
A3C Action Summit connects Activists, Academics and Artists to Discuss social justice challenges, Learn from community leaders and Develop actionable initiatives on Thur, Oct 4 - Fri, Oct 5.
The Auburn Avenue Research Library (101 Auburn Ave) is adjacent from A3C's Conference Center in Atlanta's Sweet Auburn Historic District. It is the first library in the Southeast to offer specialized reference and archival collections dedicated to the study and research of African American culture and history.
Schedule of Event: www.a3cfestival.com/action-summit
The Action Accelerator aims to find, develop, and invest in new, innovative ideas that use art, music and hip-hop culture to advance social justice in underserved communities. The creative community has been the heart and soul of social justice movements throughout history. Creatives have brought the struggle for justice and change to life through the arts, and we are proud to honor and carry on their legacy. A partnership with the Center for Civic Innovation, a civic venture fund that invests in community-driven ideas.

Pitch Night is Friday, Oct 5th at the Action Summit