We look forward to welcoming you to the new A3C experience. Make sure to share using #A3C19
IG: @a3cfestival
Twitter: @A3C
Facebook: A3C Festival
Artist Flyers | Additional Promo Graphics
The App is your essential guide to everything A3C... it has an up-to-date lineup, schedule, and guide with frequently asked questions, interactive map, and shopping/eating suggestions.
Contacts
Event/Program Manager - Cidnee Richardson - cidnee@a3chiphop.com
Show + Events Production Manager - Jodie Raimrez
Your event curator (the person who booked you) is your best point of contact.
Passes & Registration
All credentials must be picked up at A3C Registration
LOCATION: Atlanta Convention Center at AmericasMart - Building 2
235 Williams Street, NW Atlanta, GA 30303
Corner of Williams St. NW and John Portman Blvd
HOURS:
Tues, Oct 8 = 12pm - 6pm

Wed, Oct 9 = 8am - 6pm

Thur, Oct 10 = 8am - 6pm

Fri, Oct 11 = 8am - 6pm

Sat, Oct 12 = 8am - 6pm
Credentials & Access:
All performing Artists & DJs receive (1) Conference wristband + (1) Artist badge and lanyard
Artist representative receives (1) Conference pass. The artist representative is the person who filled out in the ARTIST form.
No exceptions will be made for additional crew, managers, hype man, background dancers, cameraman or anyone else.
Conference wristband will enable you access to A3C Conference at Atlanta Convention Center @ AmericasMart & Hotel Indigo (more info below) from October 10-12.
Artist badges help stage managers identify performers at shows, but do not provide access to conference or shows.
You are responsible for your A3C wristband, and A3C will not replace lost or stolen wristbands.
A3C wristbands must be worn at all times, and can not be removed.
You must tighten your wristband and are not permitted to wear a loose fitting wristband. You must wear a wristband to be permitted into any A3C event.
You are able to pick up your passes anytime registration is open, regardless of your scheduled date/time.
Production & Backline
Select A3C venues have backstage and/or greenroom. For access into the backstage and/or greenroom for your show you'll need to check in with your stage manager.
Due to the number of artists performing at A3C, therefore there is no formal sound check - unless previously arranged. Sound engineers and stage managers will work with each artists to make sure the sound levels are correct.
On the day of your performance, you must check in with your On-Site Point of Contact OR Stage Manager at least (60) minutes prior to your performance time.

The following equipment is what we will have available at each venue/stage - unless previously arranged.

BACKLINE/TECH INFO:

(1) CDJ
(2) Technics 1200 Turntables
(1) DJ Mixer
(1) Serato Scratch Live Box
(3) Microphones

Please note that A3C will not provide any DJ's for your performance
Conference Center
Atlanta Convention Center at AmericasMart (235 Williams Street, NW, Atlanta, Georgia 30303)
The Atlanta Convention Center will serve as the hub for the A3C Conference (Oct 10-12) and will include keynote conversations, panels, mixers and sessions with exhibitor and activation space featuring the most innovative companies in music, tech, film, gaming and entertainment.
Hotel Indigo Downtown (230 Peachtree St, Atlanta, Georgia 30303)
Hotel Indigo is our host hotel and is connected to Atlanta Convention Center at AmericasMart. There is a lobby bar, restaurant and breakout rooms. Staying at the Hotel Indigo offers attendees a wonderful opportunity to walk to the conference sessions, live in action and experience special events and parties. Hotel Indigo is home to The Artist Center presented by Symphonic and The Podcast Hub.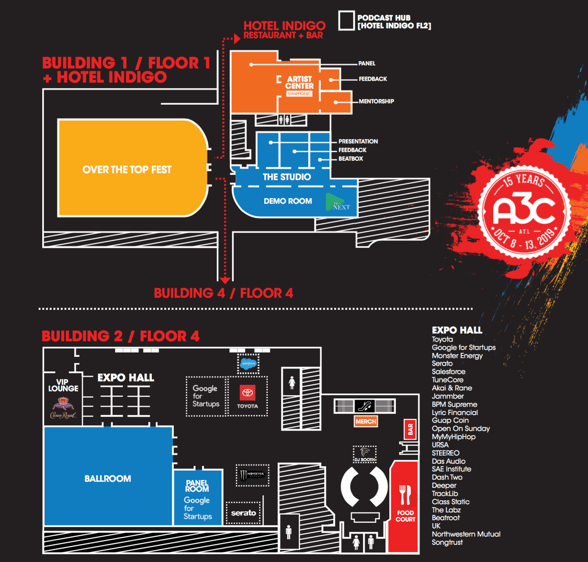 Transportation & Parking
Rideshare: We encourage everyone to use Lyft or Uber while traveling to the A3C Conference.
Parking: AmericasMart Parking Deck - Building 2 (230 Ted Turner Dr. NW) There is NO parking validation!!
MARTA: Take MARTA to get to AmericasMart using any red or gold line to the Peachtree Center station (including any train from the airport). Follow signs for John Portman Blvd. After exiting the fare gate, follow the signs to "Peachtree Street West." At street level, immediately turn right for a door that leads straight into the complex. You can also turn left on Peachtree Street to reach the Building 1 main entrance.

Additional Info & Experiences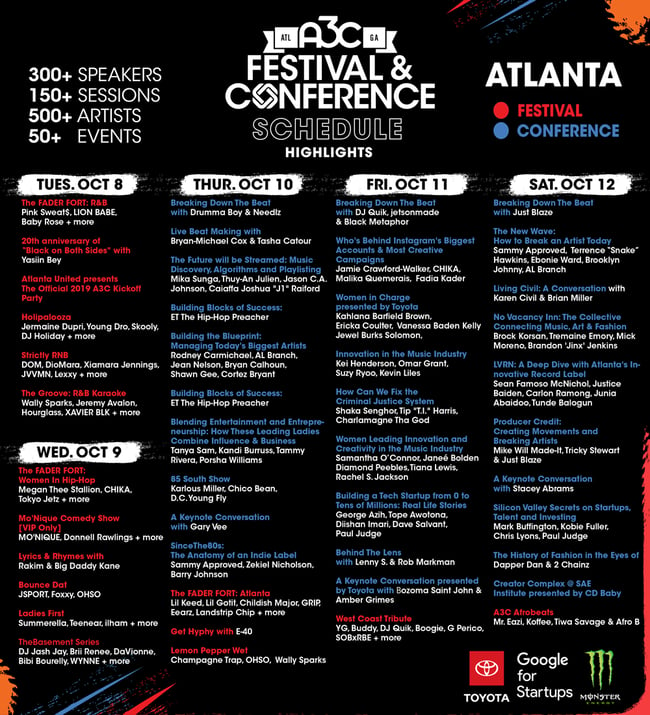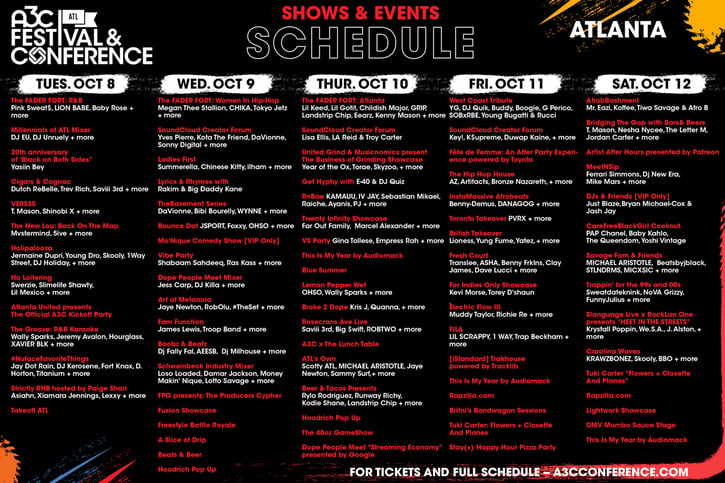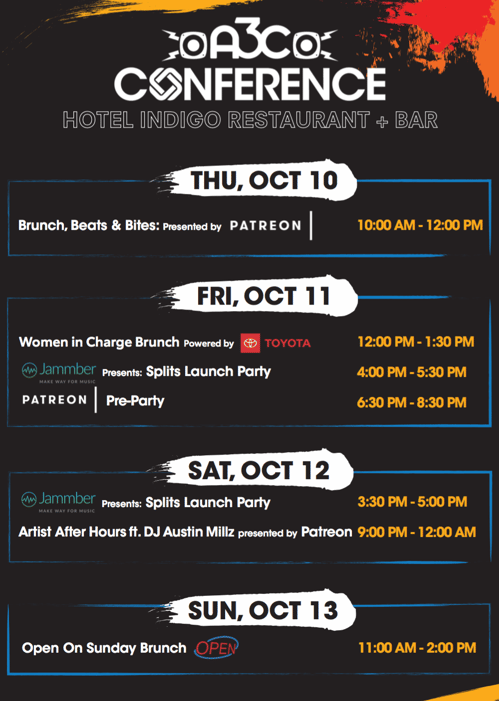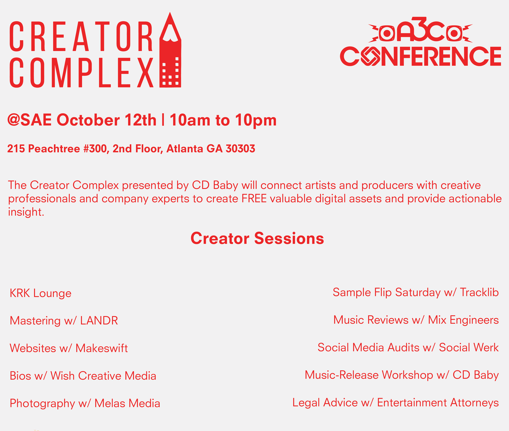 Creator Complex presented by CD Baby
@ SAE Institute (215 Peachtree St #300)
Across the street from Hotel Indigo Downtown
Saturday, Oct 12th | 10am - 10pm
powered by iStandard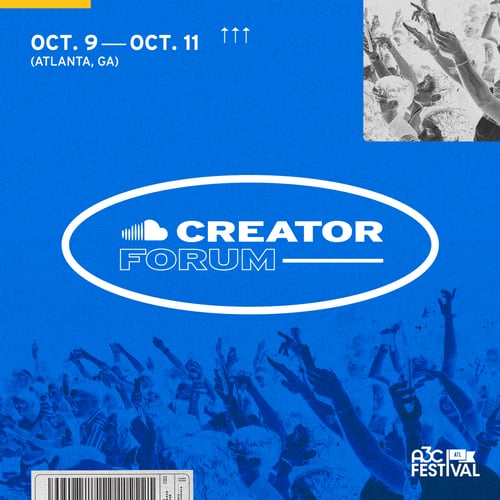 @ Ear Drummer Studio
874 Joseph E Lowery Blvd
Atlanta, GA, 30318
SoundCloud is heading to A3C (Oct 9-11) with a packed, three day line up of workshops, panels, DJ streaming demos, and an all-ATL live emerging music showcase as part of a super-charged edition of The SoundCloud Creator Forum hosted at Mike WiLL Made-It's iconic Ear Drummer Studio in Atlanta with a focus on education, connection and helping artists get discovered.
Wed, Oct 9th
SoundCloud's education series, "SC101", off platform for the first time with panels and workshops led by artists, SoundCloud staff and industry heavyweights on getting played, paid and promoted.
Panelists include Migos booking agent Yves Pierre, rising SoundCloud artists Kota The Friend, K$upreme, DaVionne & Sonny Digital, Director of Marketing at Atlantic Records, Jamila Thomas.
With a special fireside chat on the future of discovery featuring legends in the music industry Lisa Ellis (SVP/Global Head of Artist & Label Relations, SoundCloud), LA Reid(CEO & Founder of HitCo), and Troy Carter (CEO, Q&A).
Thur, Oct 10th
Connecting and leveling up your career. Artists can sign up for our 'Pass The Aux' chord playlist to get your music heard in our activation space. SoundCloud staff will also be on hand to listen to your music and provide advice on how to level up your career. Free food and drink will be provided. Serato will be in our space to give a product demo of our integration, we'll also have a mini-mix DJ contest to win Serato & SoundCloud swag.
Fri, Oct 11th
Jam-packed live music showcase inspired by, and featuring all Atlanta based emerging talent, from SoundCloud's I-85 playlist. Artists announced include: Pote Baby, Rico Pressley, Karlae, YRN Mango Foo, Blaatina, Duwap Kaine, K$upreme and headlined by Key... with very special guests announced on the night!
The Artist Center
@ Hotel Indigo Downtown (Oct 10-12)
presented by Symphonic
This experience provides a space for the music industry, artists and music makers to connect through mentorships, panels and workshops. Everyone has a chance to connect, learn, and develop their careers with the guidance of experts and thought-leaders.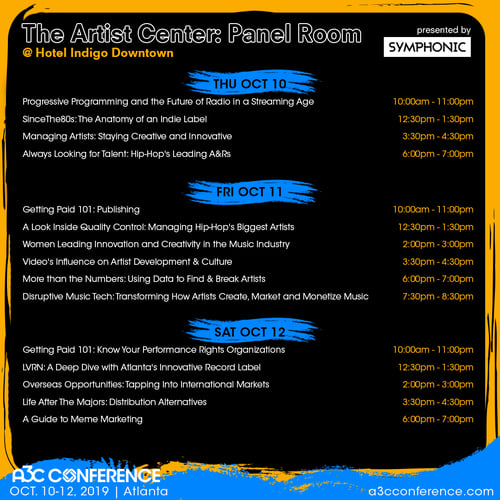 Artist Feedback Sessions
Play your music for industry professionals and receive feedback on the spot

Industry Pros: Alexander "DJ RTC" Fruchter, Paul Williams, Quinn Goydish, Diana Schweinbeck, Thuy-An Julien, Allurr, Brian Hobbs, Kirsten Daniel, Jarrett Smith, Clay West, Meka Udoh, Lasanna "ACE" Harris Richard Dunn, Gregory Burton, DJ RoseGold, Pat Afeku, Samantha O'Connor, Tuo Clark, Greggory Smith, Kevin Reese, Jheanelle Henry, Mauricio Ruiz, Craig Mannix, Gavin Sheppard, Melissa MacMaster, Jamaar "Woah" Martin, Marcus Griffin, Ian Burke, Girvan "Fly" Henry, Joshua "J1" Raiford, Eesean Bolden, Khady Thiam Gueye, Gray Rizzy, Jason Reddick, Rufin Tshinanga, Jamal Jimoh, MØW and many more.

Artist Mentorship Sessions
A series of intimate mentorship sessions on today's most important issues

Mentors: Aiyisha T. Obafemi, Amy Oraefo, Amy Serino, Andrea Hamilton, April Love, Breon Robinson, Brian Hobbs, Crystal Morris, Erica Hamilton, Fred Foster, Isaac Hayes III, Jamal Jimoh, Keith "Wok" Watts, Keith Odle, Kobie Brown, Kris Shelby, Krystal "KG" Garner, Lisa Bonner, Mauricio Ruiz, Monique Idlett, Nick Gordon, Nicole Sanzio, Pat D. Dixon, III, Rico Brooks, Rufin Tshinanga, Tai Saint-Louis, Tamiko Hope, Tialer Scott-Longchamp, Trévon Williams, Vincent Phillips and more.
@ SAE Institute (215 Peachtree St.)
20-minute Recording Sessions | 10am - 6pm from Oct 10-12.
Record at the iZotope Spire Recording Sessions feature iZotope's Spire Studio, an award-winning intelligent multitrack recorder that wirelessly pairs with iOS and Android mobile devices.
If you record, you'll be entered into a CHANCE TO WIN your own Spire Studio